How to Sign Up to Dundee's Voice
Signing up to Dundee's voice couldn't be easier. All you need is a MyGov account, which you may already have as this is needed to sign into the Council's online service portal MyDundee.
Watch this short video to learn how to sign up to Dundee's Voice.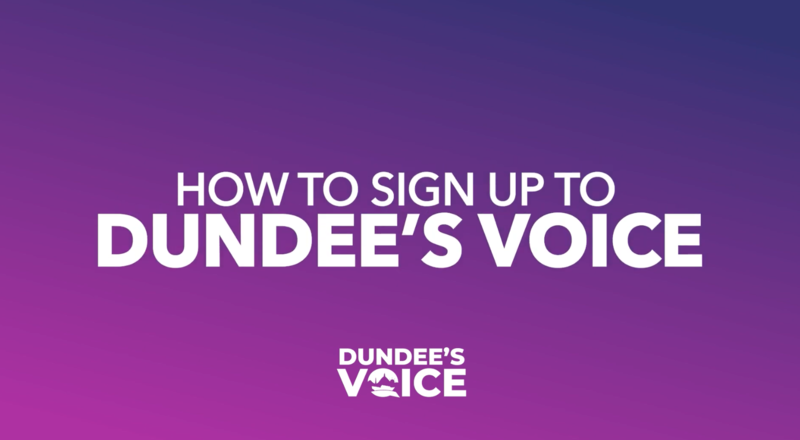 `  
Click Register at the top of your screen.
Click Reigster with mygovscot at the bottom of the information.
Click Register.
Fill out all of the forms with your details.
Activate your account via the emails sent to you.
Log in, you may be required to confirm the details shared.
You are now signed up!
If you need support with your account please vist the MyGov website.  
Why do I need to register?
Registration and sign-in for your online account is powered by the Scottish Government's 'myaccount' service. It checks who you are and allows you to use a single account to access a range of Scottish public services online.
We are asking people to register to help us keep the platform safe and reliable. If you are registered, you can also tell us if you want to be notified about future engagements. That way you will not miss anything important!  
Is my privacy protected?
Yes, we take your privacy very seriously.  We will never give your personal details to a third party or disclose your personal information without your consent. 
We will only use your email to contact you with updates and to invite you to participate in related engagement exercises.  We will not give your email address to anyone else or use it for any other purpose. 
For further information, refer to our privacy notice. 
I've applied for a mygovscot myaccount but haven't received an activation email?
Please check your spam/junk email folder as occasionally an email provider may incorrectly mark this email as junk. If it is in your junk folder you will need to move it to your inbox to enable the activation link.
If you have checked and cannot trace this email, please raise a new support request to the Improvement Service using this link and confirming your full name and date of birth so they can activate your account for you.
How do I reset a forgotten password?
You can reset your password on this page.
It will ask you to complete the form and submit. You will be sent a temporary password to your registered email address and details on how to reset it to something memorable to you.
How do I reset a forgotten username?
It's the same process as above.
You can reset your username on this page.
It will ask you to complete the form and submit. You will be sent a username reminder to your registered email address.
Problems Registering / Login?
If you are having issues registering or loggin into your account, then please use the link below to raise a help desk call with the Improvment Service:
https://signin.mygovscot.org/myaccountsupport/CAS
What if my temporary password isn't working?
Please note, your temporary password is case sensitive, so you need to enter it exactly as shown. Sometimes, if you copy and paste, errors can be made. Try entering the password manually.
Tick the 'show characters' box on the sign in page, and this will allow you to see your password as you type it. You can check that all the characters are correct.
If you're still unsuccessful, you'll need to request another temporary password.
What do I do if I get locked out?
Your account will be locked for 30 minutes if you've made too many unsuccessful attempts to log in. Once the account unlocks, you can reset your username or your password. Please see the information above.
Can I change my name on MyAccount?
Yes, it's quite simple. Sign in to MyAccount Once you are signed in, scroll down to My Details and click on 'change' beside your name.
Can I change my username?
Yes, you can. To do this, you need to:
Sign in to your MyAccount Click on Username and follow the instructions
How do I withdraw my consent or delete my account?
It's easy to remove your consent or delete your whole account, if you wish. To do this:
Consent
Sign in to MyAccount Click on the 'Consent' tab Click 'Withdraw' under the Community Choices option Delete
Sign into MyAccount Click on the 'Delete account' tab Please read the advisory message, to make sure you're sure about deleting your account Click 'Confirm' if you want to go ahead and delete your account For more information along with a list of frequently asked questions, visit MyGovScot (My Account) service